Where to stay in Bangkok, Thailand Broken Down By Neighborhood
Bangkok is constantly on the #1 spot for most visited city in the world.
It tops out at around 20 million foreign visitors each year for multiple reasons.
Apart from the fact it's a major tourist destination itself, It happens to be a favorite base location for travel around Thailand and the rest of Southeast Asia.
The city has a lot to offer, so to narrow it down for you, we're going to recommend some of the best areas where to stay in Bangkok.
Transportation, getting around Bangkok
One amazing thing about this city is its effective public transportation in the form of Metro.
Two main lines that overlap each other in the heart of the city are:
MRT (Metropolitan Rapid Transit) – typical underground metro line you'll find in major cities
BTS (Bangkok Mass Transit System) – also known as the Skytrain, this elevated railway makes for a unique experience and some nice views
With that in mind, let's look at our picks for best areas/neighborhoods to choose from:
Siam area, Pathum Wan district – the best choice for first-timers
West Sukhumvit, Metro stations – modern metropolitan area, great nightlife
Chinatown, Old Bangkok – staying on a budget
Honorable mention: Khao San Road – highly recommended for short visits, but not as convenient as the other area.
Where to stay in Bangkok, Thailand

Best for first-timers

Siam area

Siam area in Pathum Wan district is centrally located and easy to get around

Best for nightlife

West Sukhumvit

A trendy neighborhood with hip bars, shops, and markets

Best on a budget

Chinatown

An affordable area located in Old Bangkok
Best for first-timers—Siam, Pathum Wan district
Siam is a centrally located, busy, metropolis area full of things to do and see.
The MRT and BTS metro lines overlap each other at Siam, making it well connected to the rest of the city.
Pros
Cons

The epicenter of the city, within close range of everything
Metro lines intersect, making the rest of the city easily accessible.
Incredible shopping experience

On the more expensive side, things like food and entertainment can be noticeably cheaper closeby
It can get overcrowded with both locals and tourists, especially on the weekends.
Decent time passers, but a smaller pool of choices than other areas
Where to go and what to see in Siam?
Bangkok Art and Culture Center (BACC)
Stretching over 9 floors, the culture center has both art exhibitions and performances. At the right time of year, you might even be able to see one of the thematic film festivals that happen there. There's plenty to see and do and the best part is, there is no entry fee.
Sea Life Bangkok – Ocean World (Siam Paragon)
Siam Paragon is an amazing shopping center and worthy to mention. However, the real attraction is the amazing aquarium underneath. You'll get to enjoy walking around surrounded by thousands of species of fish and, for those who are daring, there are even diving events (yes, you can swim with the sharks).
Scala theater/cinema
A historic landmark and a source of entertainment in one, Scala is a blast from the past with its interior design. Although you can occasionally catch a play, it mostly serves as a cinema. Apart from showing worldwide trending film, sometimes it hosts events where enthusiasts can watch critically acclaimed movies and classics.
Where to stay in Siam, recommended accommodations
Affordable price range: Niras Bankoc Hostel – Situated in a historic house in the old city of Bangkok
Moderate price range: F04 Apartment – great view, pool and gym in the residential area
Luxury price range: Amara Bangkok hotel – very spacious, luxurious and centrally located with a beautiful view.
Where to stay for the nightlife—West Sukhumvit
Sukhumvit is an area with endless fun things to do. It's full of life both throughout the day and night. People coming to Bangkok looking for busy, tourist areas will find everything they want in Sukhumvit.
Like Siam, the MRT and BTS metro lines overlap each other at Sukhumvit.
Pros
Cons

The epicenter of the action, everything in one place
Amazing nightlife, many clubs, and bars
Local as well as global scenery and cuisine
The great shopping experience, both in big shopping centers and street vendors
Lots of cheap street food

Crowded and busy area
A bit farther from the riverside
Low traditional cultural experience
Vibrant nightlife may make it too loud for some
Where to go and what to see in Sukhumvit?
Terminal 21 shopping mall
There are many shopping malls across Sukhumvit, but we chose Terminal 21 for two very cool reasons:
It can be accessed (or left) through Skytrain
The interior has replicas of many world-famous landmarks like the Golden Gate Bridge, Eiffel tower, etc.
Enjoy a night out at clubs and bars
As mentioned, Sukhumvit is known for a variety of things to do at night. One place to consider is the Vanilla Sky Rooftop, a restaurant/lounge during the day, and a bar/nightclub at night.
Explore the busy shopping streets (Soi)
The streets around the main Sukhumvit Road are called Soi. They don't have individual names but are instead numbered. Explore them to find lots of street food, local and global, and shop around street vendors.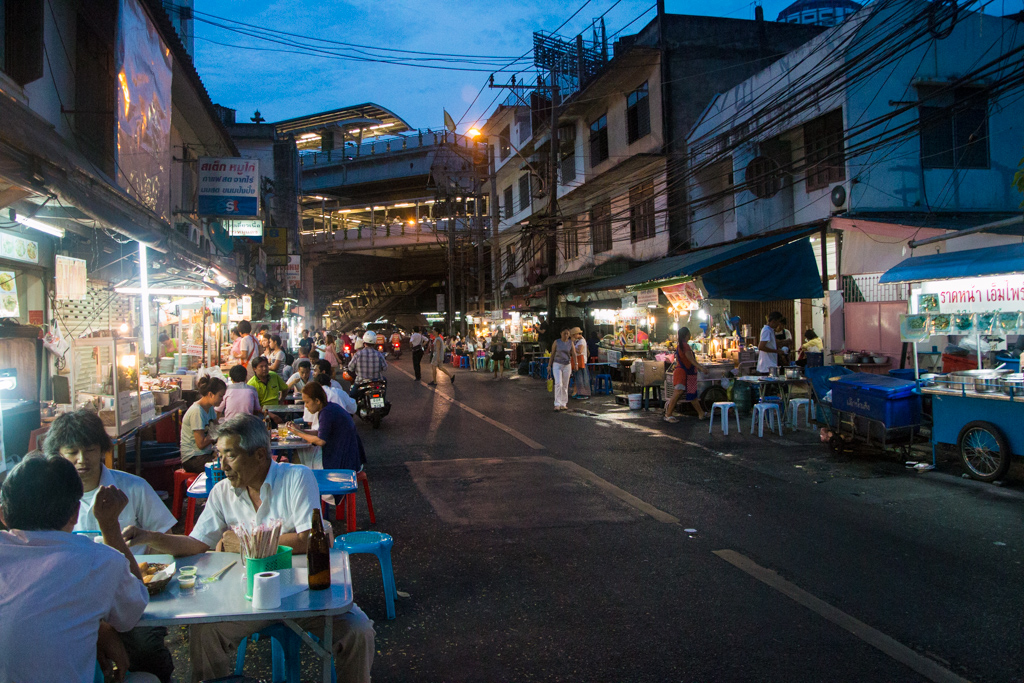 Where to stay in Sukhumvit, recommended accommodations
Affordable price range: Siamaze Hostel – a four-story building located in a business/residential area of Bangkok (Ratchadapisek Road).

Moderate price range: Emporium w/ view – modern apartment with great city view and lots of natural light
Luxury: Sofitel Bangkok Sukhumvit – luxurious hotel with gym, pool, and sauna available
Where to stay on a budget—Chinatown, Old Bangkok
Chinatown in Bangkok known as the origin from which the city emerged. This area has been used by Chinese merchants for hundreds of years. It's near the river bank, and just by looking at its surroundings, you can see the age difference between it and modern Bangkok.
Pros
Cons

One of the cheaper areas
Plenty of street food and merchants
Near the riverbank
Lots of cultural attractions

Not as well connected, only one MRT metro line passes
Beware of pickpockets and street scammers
Not as versatile in terms of things to do
Where to go and what to see in Chinatown?
Wat Traimit (Temple of the Golden Buddha)
Inside the amazing temple is a 5.5-ton pure gold statue of Buddha.
The statue itself has been said to date back somewhere around the 13-14th century.
Yaowarat Road
The street is known for glowing with a beautiful bright red at night. However, it is most famous for its large selection of street food. Stop by in the evening to get a taste of Thai cuisine.
Grand China Hotel
The Grand China hotel is equipped with many things you can explore: fitness center, spa, swimming pools, even some shops. However, the most interesting place to visit is the top floor restaurant – Sky View 360. As you can imagine, the name comes from the fact that the restaurant has a 360 view of the city AND it moves! As you enjoy your drink or meal, within the 2 hours it takes for it to complete the circle, you'll be able to see the entire city. To top things off, it isn't as pricey as it sounds.
Where to stay in Chinatown, recommended accommodations
Affordable price range: Luk Hostel – Staff are super friendly
Moderate price range: Corner Balcony Studio – modern, well equipped at a good price
Luxury price range: Shanghai Mansion Bangkok – Located in Bangkok's Chinatown, it offers a restaurant and jazz bar, as well as free WiFi access.
Honorable Mention: Khao San Road
Often mentioned by both locals and Bangkok enthusiasts, the area around Khao San Road is recommended for a short-term stay.
The best tip is to pick a location next to the main road, as main Khao San can get crowded and quite loud, meaning it's not the best choice if you aim to rest at night.
Pros
Cons

Recommended experience on its own
Close to riverbank
Youthful, vibrant nightlife
A great stopping point for backpackers and short-term stay

Relatively isolated
Not close to metro line
Can get loud and overcrowded during day and night